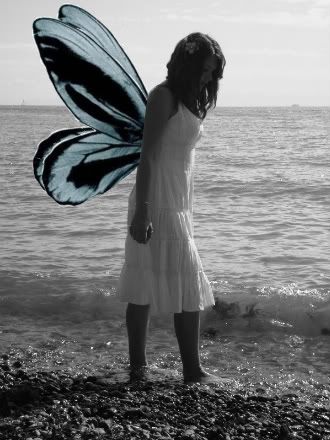 If only I could fly away from you.
Hello peoplee.
(:
Had fun today.
Except the part that I didn't bring my KH project thing ;
And I'm gonna minus 1 mark for passing it up next week.
Anyway,
I'll tell you what made today fun.
Well, it started at assembly.
Lol.
Oh, a reminder.
This post might be boring and not really fun at all.
So read on if you wish.
Anyway, continue.
I was talking to Afiqah about KH projects.
And we started gossiping.
Shasha kept on passing us and giving us looks.
Whenever she did that, we would be talking.
And we would smile oh-so-innocently.
And peace out.
:D
Anyway, after that.
English.
Story to be read ;
The Pencil.
A huge fight.
Because of a pencil.
Lame.
But yeah,
after that, recess.
Went to library instead.
Cut almost everything.
Then IT.
Went it a bit late.
Because we left the library late.
I didn't bring my file.
So, I quite panicked.
But went in without it anyway.
So, yeah, teacher didn't scold us.
Thank god.
Then, Soo Ling went into blogger.
I wanted to go online too.
But I was too cowardly.
X)
Anyway, after that ;
Science.
But Pn Tan didn't come.
So we talked instead.
We were suppose to do that book.
But we cheated.
Heheh
.
So I finished in 2 mins.
After that, Weiwen went to the front of the class,
And asked if anyone wants to refill their bottles.
Of course, almost everyone gave their bottles.
There were too many, so Aswad came to help.
Soon, Joshua and Julian came too.
They finished Weiwen's coins and most of mine.
Then, we trooped back to class.
Weiwen then went to the front of the class ;
"Whose bottle is thiis?"
Lol.
Like she was selling them.
After that, Maths.
Percentages.
How fun.
When the last bell rang,
Everyone surrounded Kar Wei.
'

like she
princess

& we all body guard
'
-Weiwen
LOOL.
Then we waited her to put her bag,
And SPLASH!
But me, Aswad and Shihou got wet too.
A bit.
Cause she refilled her bottle too.
WHEEEE.
And the best part is ;
My mom didn't notice I was wet.
YAY.
Then, went to San Francisco Steakhouse.
At Tropicana City.
Got a balloon.
:D
And I ate the most delicious chocolate dessert
EVER.
It tasted like ;
OHMAGOSHH.
When I wanted to take a scoop,
The chocolate oozed out.
And it was hot.
And you ate it with ice-cream.
Ooh la laaa
So yeah, that ended my day.
:)
Oh oh,
Happy 13th Kar Wei!
:DD
See how awesome life can be?

But you're just so cool, running your hands through your hair.
Absentmindedly making me want you ♥